cut! cut! cut!

January 10 - 18, 2020
Seetangraum, Jeju

: 3rd floor, 99, Jungang-ro, Jeju-si, Jeju-do
: 3pm - 7pm (Closed on January 11th, 12th)

- Participating Artists: Wonhae Hwang, Eunji Jo, Sla Joo, Jungin Kim, Eunji Lee, Yeonjin Oh, Jiyoung Yoo

- Design: Eunji Jo
- Critique: Nayun Lee
- Curation: Wonhae Hwang, Jungin Kim, Eunji Lee
- Organisor: Seetangraum / Seaweed Journal

- PV: 10 Janurary 2020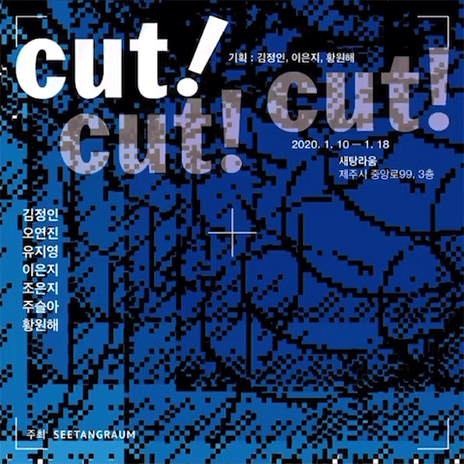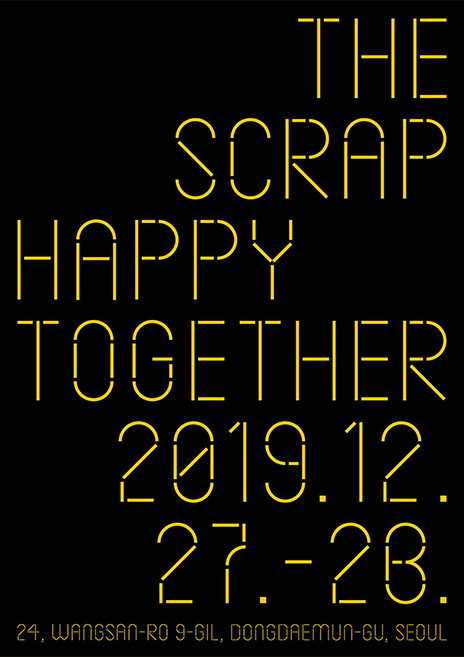 The Scrap: Happy Together

December 27 - 28, 2019
Samyuk Building, Seoul

: 24, Wangsan0ro 9-gil, Dongdaemun-gu, Seoul
: 11am - 8pm


January 16 - 19, 2020
Hong Kong Art Book Fair

Tai Kwun Contamporary, Hong Kong

: 10 Hollywood Rd, Central, Hong Kong
: Friday 2pm-8pm; Saturday to Sunday 12pm-8pm

- Organiser: The Scrap
- Admission fee: 3,000KRW


One after another

November 1 - 28, 2019
Alltimespace, Seoul

: 59, Hongik-ro 5-gil, Mapo-gu, Seoul
: Wednesday - Monday 10am-6pm

- Text: Jihyung Park
- Organisation: Yongkwan Kim, Sangah Park

- PV: 1 November 2019, 6pm-


2019 PACK : Adventure! Double Cross

September 20 - 29, 2019
Post-regional Postal Service, Seoul

: 42, Dongmak-ro 20-gil, Mapo-gu, Seoul
: Weekdays 2 - 8pm, Weekends 2 - 9pm

- Organiser: Leesaik, NNK, Yuki Konno
- Admission fee: 5,000KRW

- PV: 20 September 2019, 6-8pm
A study of basic forms 1

Apr 3 - May 7, 2019
Ilwoo Space, Seoul

: 41-3 Seosomun-dong, Jung-gu, Seoul
: Tuesday - Friday 10am - 6.30pm, Saturday 1pm - 6.30pm, Sunday 1.30- 6.30pm

- PV: 3 Apr 2019, 5 - 8pm







TasteView

December 19, 2018 - April 21, 2019
Tastehouse, Seoul

: Donggyo-ro 17-gil, Mapo-gu, Seoul.
: Wednesday - Saturday, 3 - 9pm

- Organiser: Tastehouse
- Sponsor: Seoul Foundation for Arts and Culture
- Ticket: 3,000KRW








Spilled Water

October 12 - 21, 2018
Rainbow Cube Gallery, Seoul

: 91-27 Hapjeong-Dong, Mapo-Gu, Seoul
: Open daily 1-7pm

- Curation: Sungkeun Kim
- Text: Jaemin Hwang
- Poster Design: Sohee Lee
- Organiser: Rainbow Cube Gallery

- PV: 12 October 2018, 6pm-



美人魚(Mei Yahn Yu) : a joint exhibition by Jiyoung Yoo & Jocelyn McGregor

May 3 - 6, 2018
Kaitak Centre, Academy of Visual Arts, HKBU, Hong Kong


: Installation Room, Academy of Visual Arts, 51 Kwun Tong Road, Kowloon, Hong Kong
: Open Daily 12 - 6pm

- Presenter: Academy of Visual Arts, Hong Kong Baptist University, Kaitak Centre for Research and Development
- PV & Artist Talk: 3 May 2018, 6pm – 8pm


Artist Talk by Jiyoung Yoo and Jocelyn McGregor

6.30 - 8pm, April 24, 2018
CVA 408, Communication and Visual Arts Building, HKBU, Hong Kong


- Presenter: Academy of Visual Arts, Hong Kong Baptist University, Kaitak Centre for Research and Development
- The talk will be conducted in English. Free admission, registration required.
Contemporary Visions 8

January 12 - February 24, 2018
BEERS London


: 1 Baldwin Street, London, EC1V 9NU
: Tuesday - Friday 10am - 6pm, Saturday 11am - 5pm

- PV: 11 January 2018, 6 - 8pm
- Participating Artists: Sofia Donovan, Oli Epp, Nicola Kloosterman, Igor Moritz, Stamatis Papazoglou, Christian Ruiz-Berman, Nicolas Sassoon, Jack Towndrow, Jiyoung Yoo

Contemporary Visions is an annual group exhibition that seeks to identify and explore current themes, trends, and innovations in contemporary art across all media and disciplines. This year, the jury included Leo Babsky, Chief Curator of Century Club (London); Kurt Beers, Director of Beers and Author of '100 Painters of Tomorrow; Paddy Johnson, Founding Editor of Art F City; Erik Olson, Artist and 2016 CV7 finalist; Richard Stemp, author and Art Historian; Jennifer Winsor, Director of Winsor Gallery, Vancouver (Canada); and Anna Zorina, Director of Anna Zorina Gallery, New York (USA).



The Scrap

December 13 - 17, 2017
24, Wangsan-ro 9-gil, Dongdaemun-gu, Seoul

: Wednesday - Sunday, 11am - 8pm


The Choice of a New Generation

August 8 - 13, 2017
The Muse at 269, London


: 269 Portobello Rd, London, W11 1LR
: Thursday - Sunday, 12 - 6pm

- Participating Artists: Bora Akinciturk, Bob Bicknell-Knight, Juan Covelli, Anne de Boer, Pippa Eason, Roxman Gatt, Gordon Holden, Joey Holder, Will Kendrick, Jake Kent, Eden Mitsenmacher, Aaron Scheer, Willem Weismann, Trystan Williams, Lewk Wilmshurst, Xim Xom, Jiyoung Yoo, Yorkson
- Curation: Bob Bicknell-Knight
- Programme Direction: Jonny Tanna

- PV: 8 August 2017, 7 - 10pm



Slade MA/MFA/PhD Degree Show

June 8 - 18, 2017
Slade School of Fine Art, University College London


: Gower Street, London, WC1E 6BT

- PV: 7 June 2017, 6-9pm
- Opening Hours:
Thursday 8 - Friday 9 June, 10am - 8pm
Saturday 10 - Sunday 11 June, 10am - 5pm
Monday 12 - Friday 16 June, 10am - 8pm
Saturday 17 - Sunday 18 June, 10am - 5pm

Is this it?

April 27, 2017
Serf, Leeds


: 23-25 Wharf Street, Leeds, LS2 7EQ

- PV: 27 April 2017, 6 - 9 pm
- Curation: Bob Bicknell-Knight and Helena Kate Whittingham
Faith

March 11 - 12, 2017
Austin Forum, London


: 55 Fulham Palace Road, London, W6 8AU
- PV: 10 March 2017, 6 - 9pm

MEMEMEME

January 16 - 17, 2017
Crypt Gallery, London


: Euston Road, Kings Cross, London, NW1 2BA
: Monday - Tuesday, 12 - 7pm

- Organisers: Yarli Allison, Ismene King, Giota Papakyriakou


pillow swallow hollow yellow

December 21, 2016 - January 5, 2017
ArtWall Project Space, Athens


: 26 Sofokleous Str., Athens 10552
: Tuesday, Thursday, Friday 5 - 9pm, Saturday 1 - 4pm

- Participating Artists: Yarli Allison, Eom Jeongwon, Ismene King, Hiroko Nakajima, Jiyoung Yoo
- Curation: Ismene King
- PV: 21 December 2016, 8pm -
Techno and the City

November 3 - 12, 2016
Fiumano Projects, London


: Unit 12, 21 Wren Street, London, WC1X 0HF
: Tuesday - Friday 12 - 6pm, Saturday 12 - 4pm

- Organiser: Techno&Philosophy and Fiumano Projects
- PV: 3 November 2016, 7 - 11pm